10-month modules :
from September 2023 to June 2024
Group courses
ONE evening a week from 6.45pm to 9.30pm
Every TUESDAY evening (excluding school vacations)

1st class: Tuesday 5 September
At what price?
100€
for a 120-period module (10 months)

Reduced price: €50. For whom?
I tried out several different methods of learning German myself and they all seemed very complicated. Now, thanks to my course with Nicholas, I'm making great progress and having fun at the same time!
Guten Tag
Choose a quality German course for beginners, taught by a Germanist with a passion for German and Austrian language and culture. Teaching method conforms to Bundesrepublik standards.
Official certification of German as a foreign language. Specially designed course materials for acquiring the basics of Goethe's language, both written and oral.
German at Iaps is solid, dynamic learning based on the tried and tested DaF Kompakt neu method.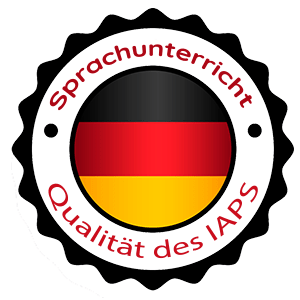 Nicholas DUMONCEAU
Professeur d'allemand
Nicholas has a passion for Germanic languages and holds a Master's degree in Germanic languages and literature from the Université Libre de Bruxelles. A keen traveller, he frequently visits German cities, particularly Berlin, Hamburg and Munich. He also had the opportunity to perfect his German in Vienna. These cultural immersions in German-speaking countries have enabled him to develop a fluency in Goethe's language.
German UE1

Tuesday evenings
from 6.45pm to 9.30pm
1st class: Tuesday 5 September
German A1 - Description of the course
The A1 (elementary) German course is aimed at anyone wishing to acquire a solid grounding in the language. No previous knowledge is required. In order to meet the needs of a wide audience, this course focuses on everyday language. More professional vocabulary is gradually introduced.

The course will be based mainly on the DaF Kompakt neu method (DaF = Deutsch als Fremdsprache: German as a foreign language). This learning method, specially designed for adults, has the advantage not only of providing basic and professional vocabulary, but also of familiarising learners with notions of German, Austrian and Swiss cultural vocabulary. As everyone has different expectations, this method enables individual needs to be met as effectively as possible. Translated with www.DeepL.com/Translator (free version)
German A1 - Method
Through a variety of dialogues and role-playing situations, students will learn how to introduce themselves and talk about their hobbies and free time, both orally and in writing. They will also be able to refine their comprehension skills by reading simplified newspaper articles and through dialogues on a variety of subjects, such as making an appointment, finding out about a flat to rent, a telephone conversation and a radio interview. Each activity will aim to develop several skills and will culminate in a fun, interactive activity in which students will find themselves immersed in a real-life situation. Herzlich Willkommen im Kurs! Translated with www.DeepL.com/Translator (free version)